Video API for developers
Build your own video applications at ease
SIMPLE API INTEGRATION
Adaptable to any use-case with a predefined web frontend
CUSTOMIZED VIDEO LAYOUTS
Merge live media, data and participants into a single video & audio stream
100% MANAGED CLOUD
All video services are cloud based with full scaling support world-wide
100% Browser BASED
Browser-based client integration on any device - desktop and mobile
What's possible with the eyeson video API?
The eyeson API enables video communication for your application or platform. We rely on web standards so you can implement your online conference service with no hassle.

Build a video platform that connects users, keep the data on your side and let eyeson do the live video part. Take advantage of modern technologies like WebRTC to provide video/audio in web or mobile applications without additional software.
Inject media & data directly into your video meetings

Create online conferences with low bandwidth usage

Build a video platform that connects users

Host your own virtual meeting, webinar or event
Basics
Start a meeting
The most basic action, to start a meeting, does only require a single request to our service. Immediately a meeting is prepared and available to be joined. The service provides a secure access token that authenticates your user. In order to use eyeson as quickly as possible, you can simply forward your user to the default eyeson web UI. No need for your users to install any additional software.

Basics
Get together
To ensure your participants end up in the same meeting you can use the unique identifier argument (id). This also comes in handy when you want to keep track of the meetings that took place as well as any recordings that have happened. We provide web hooks to do so.
Register your service endpoint once and all meeting and recording information of any future sessions will be sent there. Select custom identifiers for your meetings and users, so you can fully integrate any details in your existing platform.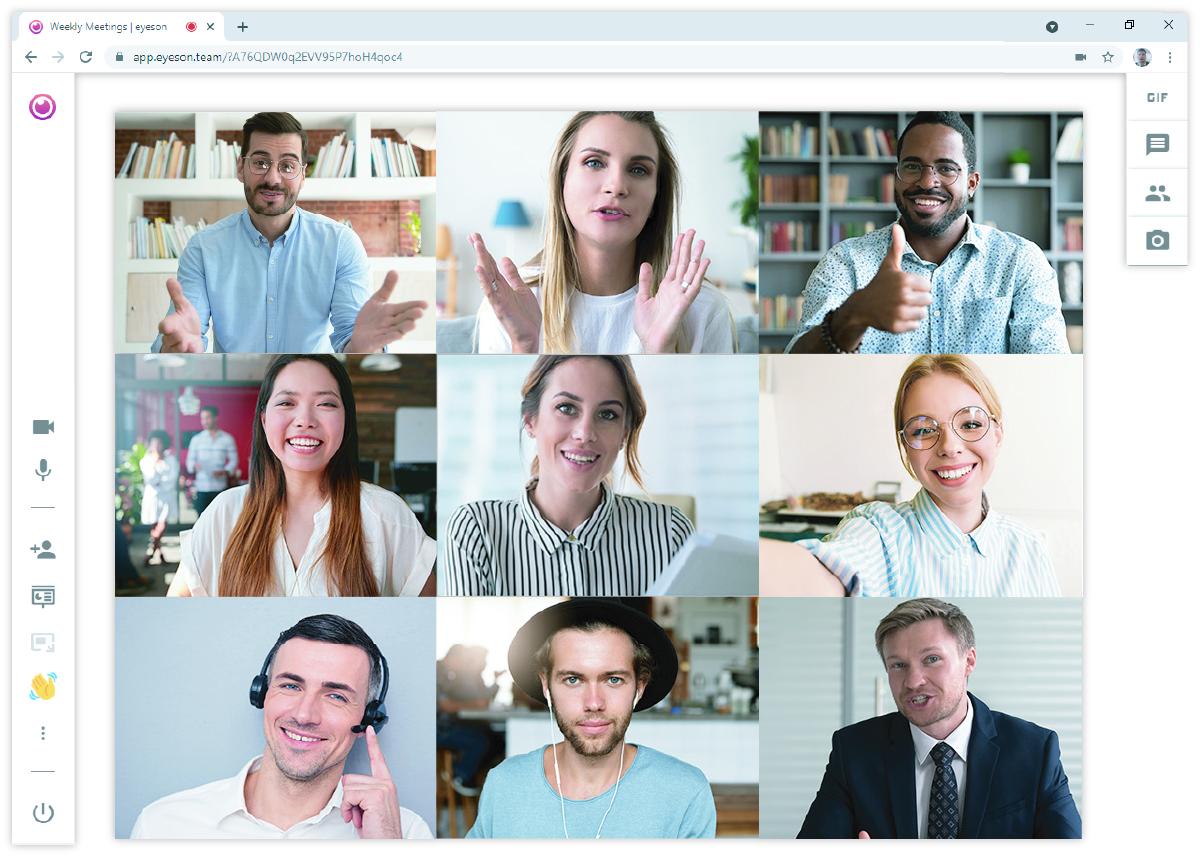 Basics
Default user interface
To get started quickly we provide a default web user interface. However, if the provided options do not fit your needs you can easily build your own user interface.
We do provide a JavaScript package that helps you get started, hides away the tricky parts and additionally provides you with many helpers that save time and money like a device manager or a feature detector.
Using a custom UI you have no limits on controlling the look and feel of your video sessions. Additionally, it can be integrated seamlessly into any existing platform.
Basics
Layouts, layers & language
Participants will be presented in a tiled video layout where eyeson takes care updating the stream depending on the number of users. However with the eyeson API you can easily assign specific users to a video position.
Besides the advantages of low bandwidth usage, the eyeson single stream technology also allows injecting media and data directly into the stream. All participants will see the same video stream, the same as shown in broadcasts or being recorded.
On demand, the default web UI can be used in German as well as in some community translated languages. For sure you can add languages, simply by creating a pull request at GitHub.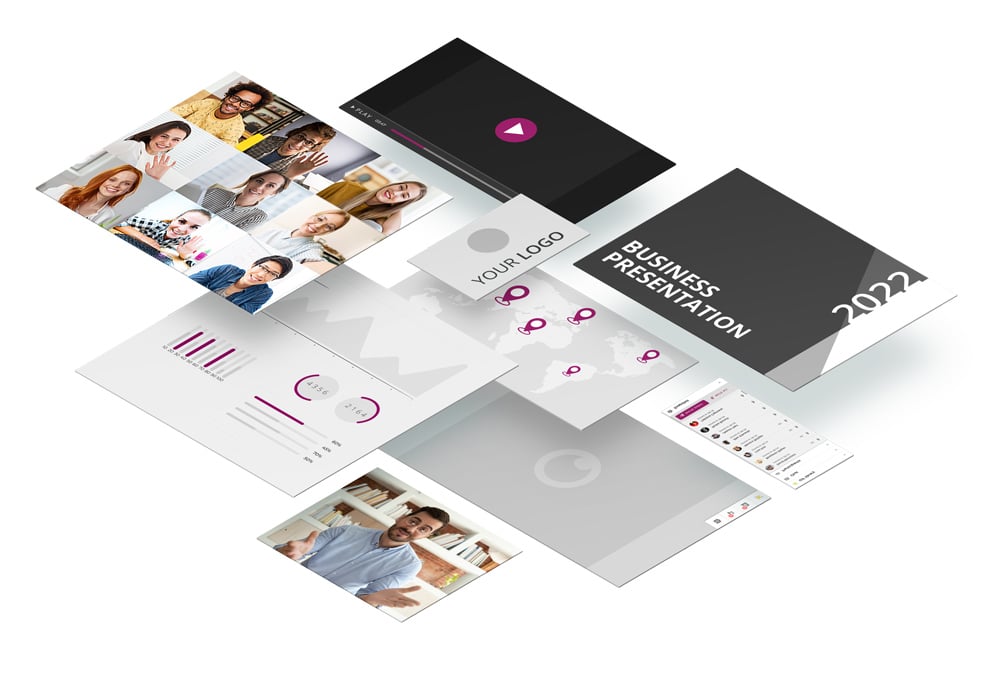 With the wide range of features provided by the API service, you can build a wide range of video solution products. The Single Stream Technology ensures high-quality output while requesting low bandwidth only.
1 COMMAND TO START
Use a single join command to start a meeting with up to 100 participants.
Data injection
Inject data like images or even other videos into your meeting.
Recording & snapshots
Create recordings and snapshots from your video stream.
Video LAyouts
Choose of different video layouts and assign your participants.
Live streaming
Broadcast to platforms like YouTube, Vimeo, Twitter or Restream.
Default interface
Use the default eyeson UI to quickstart your project.
Further API information for developers
No marketing in here 😉 Read the latest documentation from our developers which help you to implement the eyeson video conferencing API.
Want to try it?
Start for free including 1,000 min per month
To get started with your project sign up and create your own API key. We provide a free plan that includes some time credit to test our API service. You can upgrade your plan in the developer portal or contact our sales team to find you a custom plan. Service is offered based on our Terms of Service for API-based service integrations.