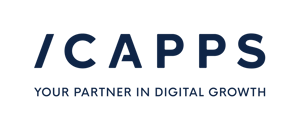 virtual events | Mobile apps | Custom software
icapps
icapps is a digital product agency that thrives on top-notch applications, innovative technologies, and future-proof products with a steady, solid base. Guiding organizations through their digital journey from A to Z. Challenging customers and inspiring them to find the best fitting digital solution to enrich the daily life of their users. That's what icapps is all about.
No matter the scope, your project is safe with us.
Together, we Think, Build and Care.

We integrated eyeson in an online conference platform for the European Commission and used it to give users the ability to get to know each other through a video meeting. We are very happy with the quality eyeson offers and the ease of use of the API.
Get connected!
Please fill out the form and we'll get back to you asap.