eyeson lets you build your own user interface

"Video conferencing APIs integrate different technical tools to better enhance your video chat, such as mobile usage or in app chat. Using eyeson lets you build your own user interface for your video conferencing platform." USChamber
Heinz Bircher-Nagy | CTO, CFO, Avance Pay

"eyeson was the right choice for our easy-to-use video chat solution. The API interface works perfectly and the video service is extremely reliable."
eyeson leading video calling API provider

"Use eyeson to create a live streaming platform helps users to take advantage of new technology such as WebRTC. eyeson offers web-based or smartphone-based apps to stream live audio and video without additional plugins." Hackernoon
Margarete Grocholski | Head of Marketing & Communications, b2match

"Integrating a video platform with the eyeson API and the ability to control the UI programmatically was key for us. The API allowed us to move fast with the seamless integration of eyeson." Read more
Easy to integrate
Add live video easily into your app or website and customize it.
fair Pricing
Cost per room no matter how many participants, all features included.
Cloud hosting
High video meeting performance with managed hosting.
100% Browser
Browser-based video meeting access with no installation.
Easy to integrate and to
maintain
Why eyeson is the easiest way to integrate video meetings
Use our video meeting API for a white label integration to provide state of the art web-frontend solutions. Control your customer journeys with developer friendly, highly flexible video conferencing API. With our API, you have the option to tap into enterprise-ready services and server maintenance, all while having the ability to scale up usage whenever needed.
As an Austrian company under EU law, eyeson provides a 100% GDPR compliant solution to protect participant privacy.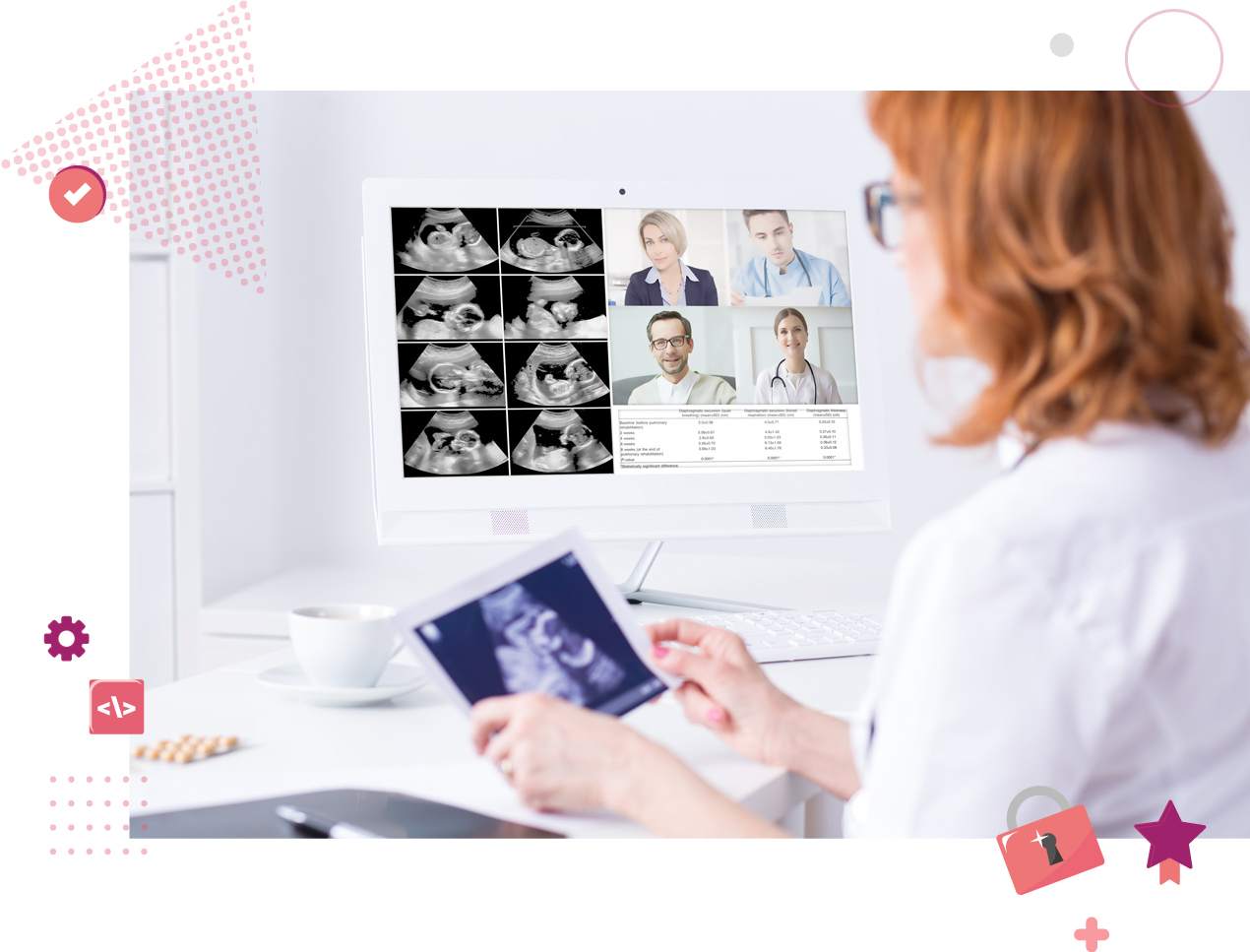 flexible and safe
Cost efficient with a fair and transparent pricing model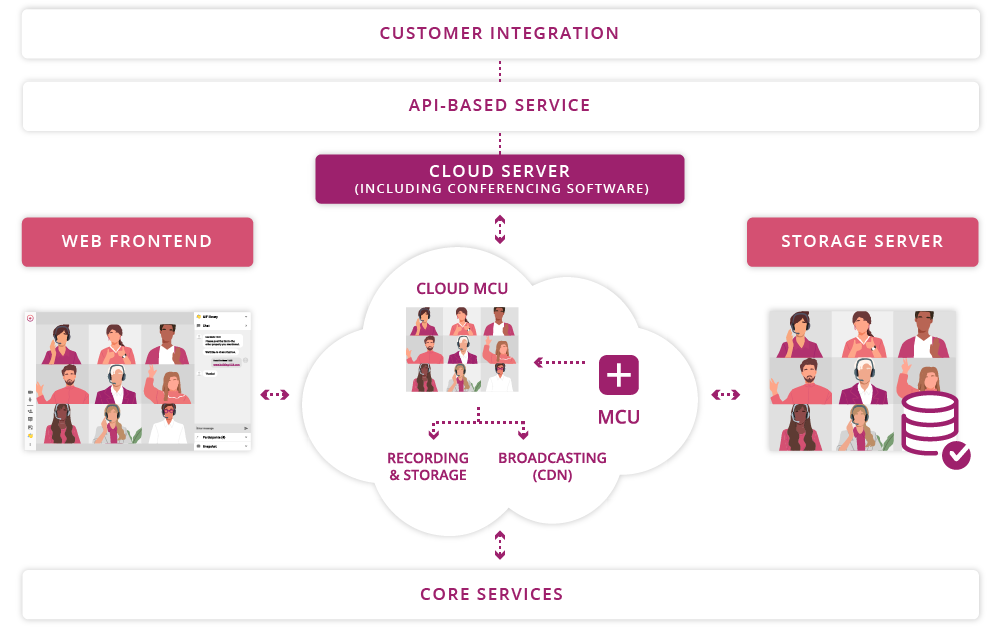 Deliver video meetings with one click, and integrate special features like screen sharing, recording and live streaming at no extra cost.
Every feature is accessible on any device without installation - 100% browser-based. We provide customized and flexible hosting locations, fully scalable on standard cloud providers, such as AWS, Exoscale, Telekom and more.
Our patented Single-Stream Technology offers you a supercharged WebRTC API with automatic bandwidth optimization.
Safe by design - our service is fail-safe and secure.
» Managed hosting
» Meeting data
» Video recording
» Video/Snapshot storage
» Media download
» PDF/Image presentation
» Screensharing
» Up to 100 participants/room
» Streaming
Free
for testing and evaluation
$ 0 per month
with 1,000 min/month included
small
for starters & small businesses
$ 189 per month
with 4,000 min/month included
(Price based per minutes per meeting room)
All the prices indicated above are without taxes!
As per our Fair Use Policy, we put limits on API usage to protect the system from receiving more data than it can handle, and to ensure an equitable distribution of the system resources.
Models can also be upgraded any time if the chosen package is too small or downgraded, if you need less minutes or resources. When your monthly API minutes exceed the limit noticeably for your current plan, and our Customer Success Department has contacted you regarding your usage with no response, we have the right to upgrade your API key to the next subscription plan. Unused minutes cannot be transferred to the next month (reset every month).
Respect usage limits
Usage limits help keep our service fair for everyone. Design your application to respect the per-user and per-app API request limits. If you think you are likely to exceed the published usage limits, please contact us.
Fair Use Policy
Fair use limits applying to eyeson API subscriptions. Choose the path that's right for you.
This Fair Use Policy (FUP) forms an integral part of the agreement between you and eyeson GmbH, as applicable, that governs your use of eyeson software and services. Capitalized terms used but not defined below, shall have the meaning outlined in the agreement. If you do not agree with this FUP, do not use any eyeson software or services. The limits outlined below apply solely to current plans.
Each customer, including a company, is limited to one (1) eyeson API key account.
Max parallel meetings: 25
If you need more than 25 meetings parallel, please contact a dedicated account manager or reach out to our customer success team to discuss available options.
See Terms of Service for API-based service integrations for detailed information
integrate and develop
Developer friendly to focus on the solution you want to build
Take advantage of modern technologies to provide video/audio in web or mobile applications without additional software.
Our simple concept is based on one video meeting as one cloud server instance with full functionality. All clients connect with a point to point connection to the server. Use modern JavaScript frameworks or build a native desktop or mobile application. Add animations, videos or data overlays to your live video meetings.
Keep your data and let eyeson do the live video part!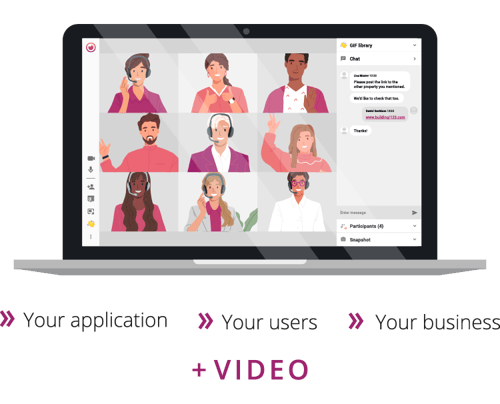 Documentation
No marketing in here 😉
Read the latest documentation from our developers which help you to implement the eyeson video conferencing API.